Avalon ​(single download)
Five By Design's single from their project "Live! From The Ultra Lounge." This song was written in 1920 by Al Jolson, Bobby DeSylva, and Vincent Rose. A hot 6-piece band scored by Willis Delony with a great vocal arrangement by Terrence Niska.
---

Stay Tuned (cd or download)
Five By Design's homage to the golden age of television featuring such standards at "The Girl From Ipanema," "Sh-Boom," and New York, New York."
---

Club Swing (cd or download)
From the frenetic-paced "Bugle Call Rag," to Louis Prima's "Sing, Sing, Sing," Club Swing celebrates the songs that defined American popular culture during the Swing era.
---

Radio Days (out of print)
Five By Design's first musical retrospective was recorded with the Utah Symphony in 1997. The program is a salute to the big band era and a tribute to men and women that defended the American homefront during World War II.
---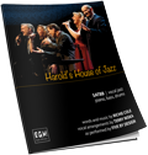 Five By Design Vocal Series (SATBB)
Five By Design has published a vocal music series with Really Good Music featuring two compositions by Richie Cole, "Harold's House Of Jazz," and "Bossa Nova Eyes." The series also includes "Cara de Payaso," from Five By Design's production of ​Club Swing.
---